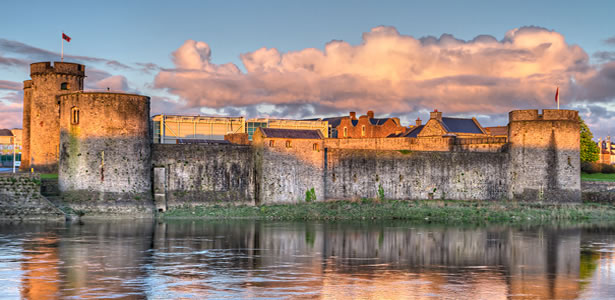 Although small by international standards Irish cities are big in heart. Moulded by our history, tradition and culture, every city has a vibrant core waiting to be explored. Below are detailed some of the highlights of our cities. If you have specific sites you wish to visit, tell us when we are compiling your customised itinerary.
Dublin
So much to do in our capital city; with cultural attractions like the National Museum and Trinity College, shopping on Grafton St, experiencing the thrill of a Gaelic match in Croke Park, a night at the theatre, as well as world-renowned night-life, architecture, history,
culinary delights and so much more, you'd be forgiven for never setting foot outside the city!
Belfast
The city is fast becoming a must -see tourist destination with a multitude of stylish bars, gourmet restaurants, trendy clubs and some of the best shopping on the island. Visitors can float back in time with a visit to the inspiring Titanic museum or enjoy a walk in one of the city's many parks. A city steeped in culture with a modern, vibrant heart. Compact and easy to get around it is also a wonderful base for exploring the wonders of Northern Ireland.
Cork
The Republic's second city, exploring Cork is an enjoyable, multi-day pursuit. Steeped in history, Cork city is fast gaining a reputation as one of Europe's hippest cities as well as being renowned for its culinary flair and vibrant cultural scene. Around every corner are architectural delights and every visitor must visit the world-renowned English Market to sample the delicious wares of the stallholders.
The city was the European Capital of Culture in 2005 and listed by the Lonely Planet Guide among the top ten cites for 'Best in Travel in 2010'.
Limerick
The county has so much to offer, from the shopping delights of Limerick City to the picturesque charm of Adare, one of Ireland's prettiest villages. The city holds many delights with activities to suit all ages; from museums, wonderful restaurants, spas, the atmospheric milk market, the world-famous Thomond Park and the wonderfully warm pub culture.
Winner of Trip Advisor's Travellers' Choice Destinations 2012 and recommended by Lonely Planet. Limerick city has been chosen as the National City of Culture 2014, which will entail many wonderful events and festivals.
Galway
Wander the cobble-stoned streets of Galway, as feel yourself stepping back in time to Medieval Ireland. Known throughout the world over for its friendly people, charming streets, shopping and night-life, Galway will refresh flagging spirits like no other place. Packed with culture, traditional Irish music and activities for all ages, a place not to be missed.
This is just a taste of some of the places you can visit while on your trip to Ireland. Irish Travel Plans will work with you to compose a customised itinerary to include all the activities and attractions you desire. Make sure to tell us about your Irish dreams!