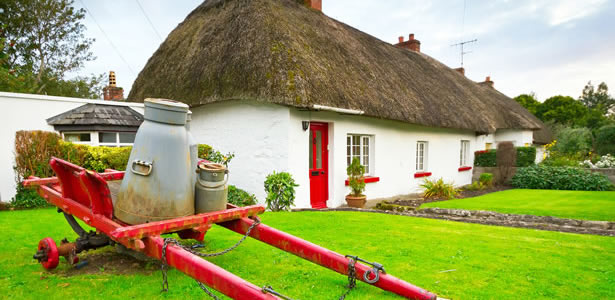 We invite you to experience a true Irish tradition during your trip here. We have compiled information on some unique Irish holidays and cultural traditions. Make sure to tell us of your specific interests when we are working on your customised itinerary.
Irish Crafts
Craftspeople throughout Ireland are creating beautiful contemporary designs with an Irish twist, in all disciplines, from jewellery to clothing, to wood-turning and pottery. And many makers have opened their doors to visitors, providing a special glimpse into the inner workings of their studios. There are many craft workshops also running throughout the country. If you have a specific craft discipline you wish to try your hand at, discuss this with Travel Plans and if your itinerary allows we will try and arrange a day/morning/afternoon for you to experience such a craft. There are many shops throughout the country selling the wares of our master craftspeople and a visit to the National Craft Gallery is a wonderful way to spend an afternoon.
---
Gaelic Games
There's nothing like the atmosphere of a GAA match – the flags, the jerseys, the banter, the tension, the excitement, it is one of our most thrilling traditions to watch and a great day out for all the family. Hurling is a unique Irish sport, the fastest field sport in the world and one of the oldest. A visit to the GAA Museum and a tour of Croke Park will give you a real taste of one of Ireland's most dynamic grassroots associations. While at Croke Park the new Etihad Skyline tour gives a magnificent view of Dublin city. If you would like to attend a hurling or gaelic football game we will do our best to fit these into your itinerary. The passion and excitement, both on and off the pitch, at a local or county gaelic game will be an experience that will last long in your memory.
---
Traditional Music & Dance
Riverdance brought traditional Irish music and dance to an international audience. There are festivals, fleadhs, céilís and Irish dancing championships held all round the country in all seasons, as well as shows like Trad on the Prom, based in Galway. In many pubs in Ireland during a 'trad session' an impromptu 'céilís' will take place, all dancers welcome!
Journey into the heart of traditional Irish music with the unique atmosphere generated by the live, local experience, the fusion of sounds and styles, old and new. Trad Sessions are held in pubs and festivals throughout the country.
---
Storytelling
Storytelling is an ancient part of Irish culture, a cornerstone of our literature and still very much a part of our lives. Today the art of seancaithe (tradition bearers) and scéalaí (storytellers) is being revived in festivals, such as the Cape Clear Island and Slieve Bloom Mountains Storytelling Festivals and the ghost walks in Glasnevin Cemetery. If you would like to learn some of these skills, let us know.
---
Language
Irish (Gaeilge) is one of the world's oldest written languages and there are now more ways than ever to experience it through listening, reading, and talking. Check out Foras na Gaeilge bilingual site, Conradh na Gaeilge site or the award-winning website and blog www.talkirish.com which gives information about lectures, festivals, youth clubs and outings running throughout the country. Let us know if you would like to take part in language courses that run throughout the country.
---
Island Visits
Ireland is an island surrounded by hundreds of off-shore islands magnificent in their rugged beauty, some populated and some a living memory of past inhabitants. More information on our island visits.
This is just a taste of some of the traditional Irish cultural activities you can partake in while on your visit to Ireland. Irish Travel Plans will work with you to compose a customised itinerary to include all the activities and attractions you desire. Make sure to tell us about your Irish dreams!