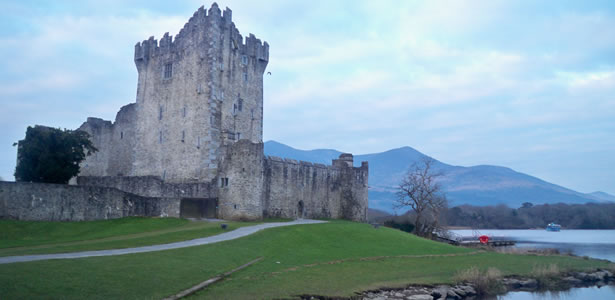 Architecture & Design
Discovering great architecture in Ireland is as easy as taking a walking tour throughout our cities and towns, from stunning new contemporary buildings and the latest eco-houses to Georgian mansions. The skyline of our cities is changing fast, with stunning new buildings like the Convention Centre, the Grand Canal Theatre designed by Daniel Libeskind and the VISUAL Centre for Contemporary Art in Carlow.
Cultural Activities
We invite you to experience a true Irish tradition during your trip here. We have compiled information on some unique Irish holidays and cultural traditions. Click here to read more on uniquely Irish cultural activities.
Gardens
The natural climate of Ireland has allowed for the development of some splendid gardens, featuring a massive range of flora and fauna, and magnificent designs ranging from natural to formal.
Whether it's the world famous Powerscourt House and Gardens, the National Botanic gardens, the Rose Garden in Kilkenny Castle or the Gulf Stream washed Garnish Island, you will discover the many delights of Irish gardens each with their own treasures and charms.
Heritage
Although a young independent country, Ireland has a gloriously rich past which mingles easily with our modern life. Irish Travel Plans will make recommendations on specific sites to visit based on your customised itinerary. Of course if there are specific sites you wish to visit, please tell us. Below we have detailed some of the most popular sites to give you a taste of historic Ireland.
Step back 5,000 years with a visit to Newgrange, a UNESCO World Heritage Site and the site of the Winter Solstice celebrations, or visit a more 'recent' attraction like the 12th century Kilkenny Castle. There are so many castles and historic houses to visit throughout the country and many offer the opportunity to stay overnight, make sure to ask us about castle and historic home stays.
Wander through one of our many National Parks, such as Glenveagh National Park in Donegal, Connemara National Park or Killarney National Park. Explore the Botanic Gardens in Dublin or enjoy a woodland trail walk through Doneraile Wildlife Park or Coole Park.
The countryside is dotted with a number of prehistoric stone forts, one of the most famous and dramatic is the largest of the stone forts on the Aran Islands, Dun Aonghasa. Perched spectacularly on a cliff overlooking the Atlantic ocean, it is enclosed by three massive dry-stone walls and a "chevaux-de-frise" consisting of tall blocks of limestone set vertically into the ground to deter attackers.
A trip to Ireland is never complete without visiting some of our natural wonders; the Cliffs of Moher and the Skellig rocks being some of the most famous. Rising out of the wild Atlantic Ocean, the Skellig rocks were settled by ascetic monks between the 8th and 12th centuries. Explore this breathtaking UNESCO World Heritage site, which sits twelve miles west from the coast of Co. Kerry. Standing 214 metres at their highest point, the Cliffs of Moher stretch for 8km along the Atlantic coastline.
As is fitting for a country with such a religious history there are many ancient monuments, abbeys, churches, monasteries and antiquities throughout the country. Our churches and abbeys tell the story of our history; in Tipperary, the Holy Cross Abbey was a great place of medieval pilgrimage; St Patrick's Cathedral, Dublin is full of treasures and surprises, including the ancient Celtic Cross that once marked the site of the 12th century holy well of St Patrick. Located about an hour's drive from Galway City, a visit to Kylemore Abbey will rank as an unforgettable memory. The ancient monastic site of Clonmacnoise was a great centre of learning and many famous manuscripts were written here. Today, visitors can see three high crosses, a cathedral, seven churches and two round towers. A visit to Dublin is never complete about a viewing of the ancient Book of Kells in Trinity College. Written around the year 800 AD, the book contains a richly decorated copy of the four gospels in a Latin text.
As it's the year of The Gathering, how about tracing your own Irish ancestors? Talk to Irish Travel Plans about organising a family reunion.
Literature
Ireland has a very distinguished literary heritage which you can explore at the Dublin Writers Museum or take to the streets on one of the Joycean walking tours of Dublin. Take in one of the fascinating exhibitions at the National Library of Ireland on Kildare Street. The Yeats Society in Sligo Town runs summer and winter schools exploring the work of W.B. Yeats and the Lady Gregory & Yeats Heritage Trail incorporates historical sites associated with these two peers of Irish literature.
There are a variety of literary festivals held throughout the country. Meet Ireland's outstanding writers at the Writers Week in Listowel, the Cúirt International Literary Festival in Galway, the West Cork Literary Festival, or the Flat Lake Literary and Arts Festival in Monaghan; to name but a few.
If you would like to put pen to paper, ask us about taking a creative writing workshop at the Irish Writers' Centre. Irish Travel Plans would be delighted to organise tickets for any of our literary festivals, but remember that tickets can sell out fast so email us now to reserve yours.
Medieval Banquets
A medieval banquet is a most memorable experience and you have a choice of historic castles throughout Ireland to choose from.
Bunratty Castle Banquet; Bunratty Folk Park, Co. Clare; Ireland's most popular medieval styled banquet. Staged in the 15th century Bunratty Castle, guests can join the Earl of Thomond for a dining experience unlike any other. The evening begins with a mead reception in the Great Hall of the castle, then downstairs to enjoy a four course meal with red and white wine, accompanied by the world renowned Bunratty Castle Entertainers with a program of medieval and traditional Irish songs and music.
Dunguaire Castle Banquet, Dunguaire Castle, Kinvara Co. Galway; an evening of superb music, song and storytelling awaits you at Dunguaire Banquet on the majestic shores of Galway Bay. Mirroring the tradition of medieval 'King Guaire', you are welcomed to savour a delicious four course dinner with select wines. The entertainment includes extracts chosen from the works of great literary writers such as Synge, Yeats, Shaw and O'Casey.
Knappogue Castle Medieval Banquet, Quin, Co. Clare; on arrival at the castle guests are greeted by a welcoming programme of music, song and dance, accompanied by a serving of traditional honey rich mead. Afterwards indulging in a sumptuous four course banquet feast with red and white wine.
Irish Travel Plans can organise booking for groups of all sizes at the medieval banquet of your choosing, including transportation if required. Reservations are required in advance as there are limited places and it is a very popular activity.
Museums and Galleries
There are many treasures to view in Ireland's art museums and galleries. Officially opened in January 1864, the National Gallery of Ireland is located on Merrion Square just ten minutes walk from St. Stephen's Green in the centre of Dublin. This houses a national collection of European and Irish fine art and the gallery provides a variety of services and facilities to help you make the most of your visit. Crawford Art Gallery in Cork is full of wonderful Irish and international art, while for modern art lovers the Irish Museum of Modern Art (IMMA) is unmissable.
For photography enthusiasts, the Gallery of Photography shows work by Irish and major international artists and the Photo Ireland Festival in July is always interesting.
The country is dotted with an amazing variety of Irish statues, installations, art trails and festivals, including Edward Delaney's famous sculpture of Wolfe Tone in Stephen's Green, the Shekina Sculpture Garden in Wicklow, the Lough Boora Parklands sculpture park in Offaly, the Cork Art Trail and the EVA Festival in Limerick.
And if all this makes you want to dabble why not ask us to sign you up for an art course or take an art holiday in the Burren.
Theatre
For over a century, Irish theatre has been captivating audiences at home and abroad. There are theatres large and small throughout the country with actors ranging from Hollywood stars to local amateurs actors. Irish drama holds a central position in the arts and the culture of Ireland, capturing the imagination of audiences worldwide with its power, diversity and vitality.
The range of theatres in Dublin is impressive including the Abbey, our National Theatre, the atmospheric Gate Theatre, the lively Olympia Theatre and the stunning new state-of-the-art Grand Canal Theatre. Great Irish drama and theatre is not just confined to the capital, across the country, you can enjoy powerful performances by professional and amateur societies and groups. If you wish to include a theatre visit in your itinerary just let us know and we will do all we can to ensure you tickets to your chosen performance.
This is just a taste of some of the cultural activities you will see while on your visit to Ireland. Irish Travel Plans will work with you to compose a customised itinerary to include all the activities and attractions you desire. Make sure to tell us about your Irish dreams!